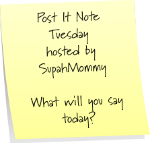 I think I have possibly found my all-time favorite post on any blog EVER!
You MUST go to
SupahMommy
and read her latest post. It's imperative to have your sound on, without it, it's just not the same.
So here is my rookie attempt at Post It Note Tuesdays.
Before you leave me, don't forget about my giveaway
here
....one more day to go!